Customer Reviews
10/15/2020
G-Mac
United States
Here's Johnny!
This mask is spectacular! I have already had someone recognize the pattern and ask where I got it. It is thick but breathable, and it covers more area than cheaper masks. The beads don't slip out of place when you pull it under your chin to drive or take a sip of coffee. I also got the Twin Peaks, Big Lebowski, and Matrix ones (the names are different here, but you'll recognize the designs!). Love that the proceeds go to help musicians >3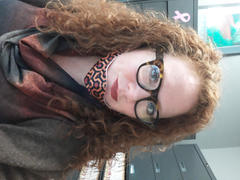 10/19/2020
Consequence of Sound's Official Web Store
Awesome! Glad to hear you like them. :)
10/03/2020
Lizette H.
United States
Na
I don't use them because the straps don't go around the ears
08/31/2020
Steven M.
United States
Love them!
I got the Caretaker and Digital Rain Masks and I love them both. CoS Customer Service was great and I received them in the mail from Florida to Colorado in 5 days. With our current mail situation, that's amazing! Thanks, CoS!
08/14/2020
Jerry
United States
So many people have stopped me on the street asking where I got this from!
I also love that these masks support a good cause!
08/02/2020
Tyler D.
United States
Great Graphic Design, Straps are Annoying
Love the quality and look of the Shining carpet design, but a simple around-the-ear strap design would do it a lot better instead of pushing up against your hair with a top strap